If you are thinking of purchasing an entry-level bike as an amateur or professional cyclist, the GMC Denali Flat Bar Road Bike may be exactly what you need. People who have used the bike have stated it is the best road bike that costs less than $200. Beginners who have used the bike have said it was perfect for them especially because some were looking for an inexpensive entry level bike to get into the sport. Knowing some of the features of the bike can help you understand why it is popular and is one of the highest selling road bikes offline and online.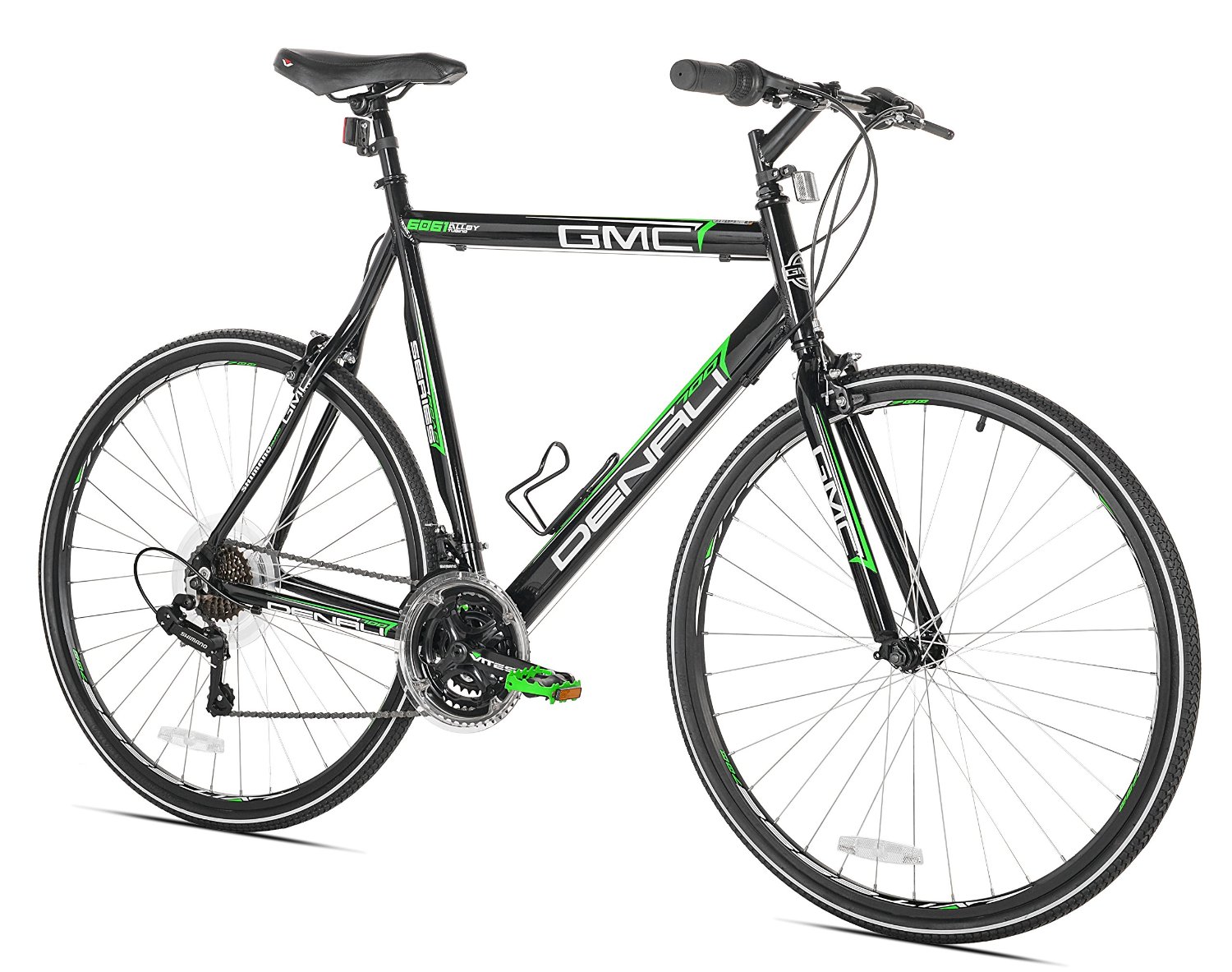 These are some of the features of the GMC Denali Flat Bar Road Bike:
700c x 32 tires are great and well suited for city street rigors
Shimano Revo shifts and Shimano derailleur makes it easy to smoothly and quickly change gears
Vitesse racing rims (high-profile alloy)
Alloy brake levers and alloy calipers
21 speed road bike
Lightweight aluminum frame
Assembly time of 2 hours
Performance and function ensured by safety ride
Guidance on basic maintenance and tuning
Other important features consist of
Aluminum construction
The GMC Denali Flat Bar Road Bike is composed mainly of aluminum alloy components. They provide weight savings where required and strength where needed. To begin with, this bike has a straight gauge frame (lightweight aluminum 7005). This feature makes it simple for you to lift it and place it on your car's bike rack should you want to travel with it. Promax aluminum brake levers and Promax alloy caliper brakes are on the bike, which allow you to stop on a dime irrespective of the weather conditions. An alloy water bottle cage is present on the road bike, and it ensures you are hydrated when riding.
Rims
The GMC Denali takes pride in the high quality rims it has – the alloy Vitesse racing rims. Apart from looking amazing, these high profile rims perform flawlessly. As a rider, you can benefit from stable and smooth rolling every time you get on the Denali.
Smooth riding
Smooth riding does not solely depend on the type of rims and wheels. The fork of a bicycle has a major impact on how a bike will ride. The GMC Denali Flat Bar Road Bike is made of a rigid GMC series 7000 steel fork. To ensure you are not jostled when riding on rough or off-road terrain, the fork works efficiently to absorb shock from such terrain and uneven ground. Additionally, the fork makes sure you have optimal handling at all times. This in turn substantially reduces your chances of losing control.
Functionality
The main intended use for this model of GMC is road use. This means you can use it for training, road racing, exercise, commuting to work, leisure riding and so forth. Users who have had the chance of riding the bike put its road functionality somewhere around medium in terms of effectiveness. Because it is an entry level bike, GMC Denali Flat Bar Road Bike has lower quality brakes and tires. Even though it is an excellent choice for normal use, it may not be as effective in a professional biking event as you would want.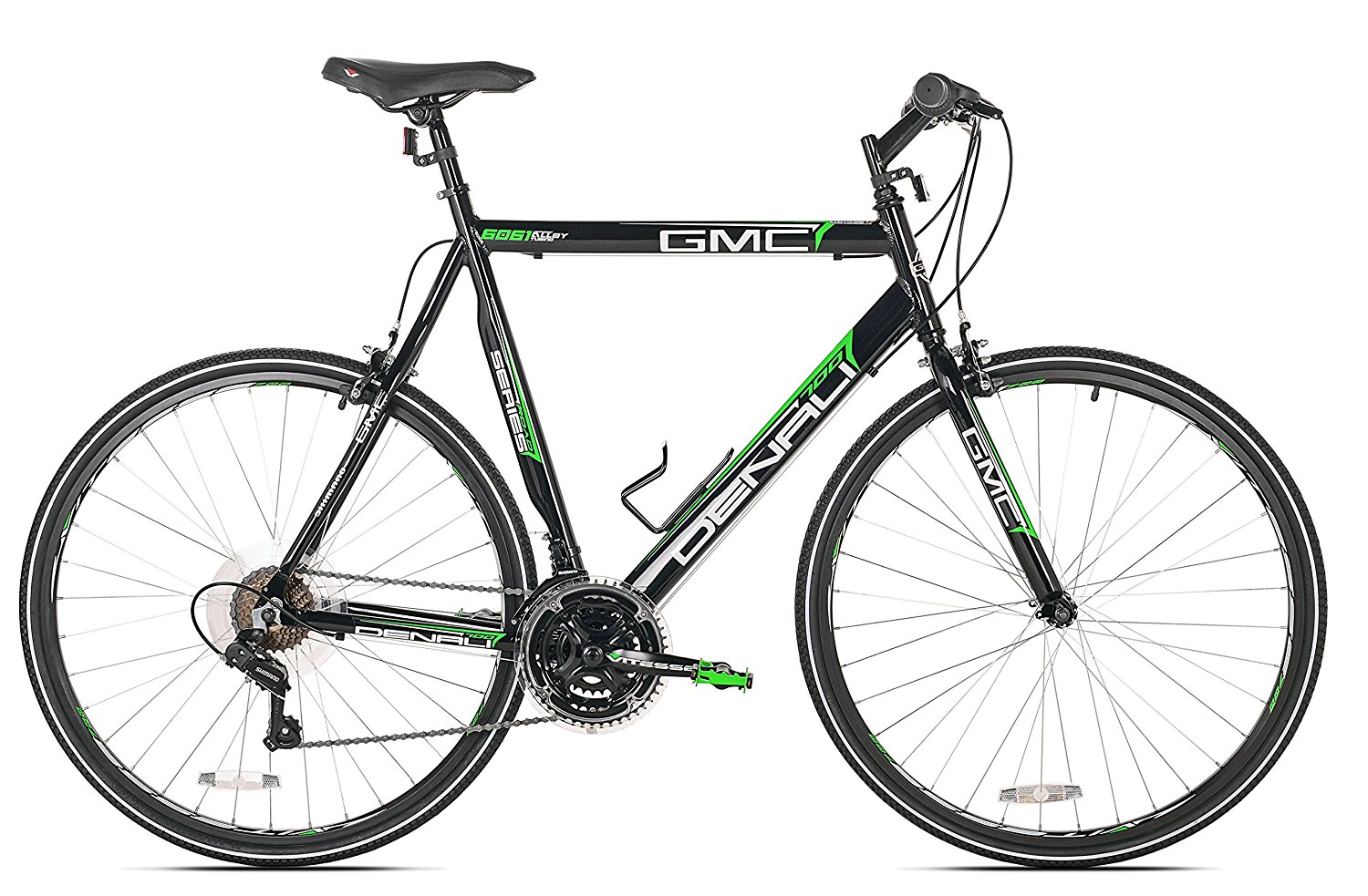 Simple gearing function
Gearing on any bike should never be stressful. Thankfully, the Denali from GMC has quality Shimano gearing. They ensure that your time on the bicycle will be smooth and fast. This GMC road bike has Shimano Revo shifters, a Shimano 7 speed rear derailleur and a Shimano Index front derailleur. These are components that work seamlessly to ensure gears can be changed smoothly and quickly. The end result is a riding experience that is filled with pleasure and is enjoyable.
High performance tires
The 700c tires on the GMC Denali Flat Bar Road Bike are another top feature of the bike. They are capable of standing up to the most rigorous street racing applications. This being the case, you are assured of peace of mind when you take on rough terrain.
Pros
Looks awesome
Looks more costly than it really is
Requires no or very little fine tuning after assembly
Available in various colors
Easy and quick to assemble
Extremely light in weight
Comfortably competes with bikes that are twice or thrice its price
Cons
Might be a challenge riding uphill
People with very large foot size might need to replace pedals
Overall, the
GMC Denali Flat Bar Road Bike
delivers when it comes to bang for buck. I think you will find you have spent money well when you buy the bike.